Maple City Stained Glass

Discount Stained Glass & Hot Glass Supplies

Sales Only  1-866-38-GLASS  Hours M-F 9-5 EST

Soldering Accessories

Inland Solderstation

© Maple City Stained Glass

All Rights Reserved. 1-866-38-GLASS

(1-866-384-5277)


Inland Solderstation

Features

A temperature control and outlet combination. The circuitry includes a grounded outlet, an LED on/off indicator and adjustable control dial.

A 6 foot grounded power cord is wired into the SolderStation™, essentially extending the reach of the iron by 6 feet. This can be a huge benefit when working on a large flat project or a lampshade.

Cord router clips located along the left side of the plastic housing keep the iron cord away from the built-in iron stand.

A built-in coil-type iron holder with heat resistant collar fits most soldering irons. A metal drip plate is located below the iron holder with a well for a tip cleaning sponge.

A flux bottle well with a flux brush and a flux brush holder. The brush holder lets flux drip off the brush, back into the bottle, after the flux brush is used.

A solder spool post is sized to hold a full one pound roll of any solder.

A triangular flux sponge can be covered with liquid flux for easily fluxing foiled glass, rings or wire before tinning or soldering.

A catch all bin runs along the front for holding the flux bottle cap and provides a place to keep miscellaneous items such as rings, pins, or extra iron tips.

A pliers/tool well designed to hold mini-needle nose pliers which are a great aid for holding tiny rings or hinges while soldering.

One Year Warranty

#11645

$28.25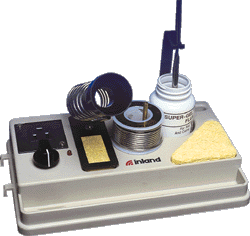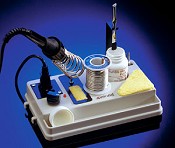 (Product shown with iron.

Iron not included)

1-866-38-GLASS

Quick Reference Links