Items on this page are okay for international orders.  Any questions please
email us
.
Hot Glass Chemicals - Fusing/Beadmaking

Maple City Stained Glass

Discount Stained Glass & Hot Glass Supplies

Sales Only  1-866-38-GLASS  Hours M-F 9-5 EST

© Maple City Stained Glass

All Rights Reserved. 1-866-38-GLASS

(1-866-384-5277)

1-866-38-GLASS

Quick Reference Links


HotLine Shelf Primer

A high temperature, low fluxing clay and alumina mixture formulation which contains suspension agents and a color coded dye that burns off at 800 degrees.  Used according to directions, shelf primer is the best insurance that your fused work will not stick to the kiln shelf.

24 oz Tub                   5 lb Tub

$9.99                        $19.00

HotLine Hi-Fire Shelf Primer

A special formulation of alumina and low fluxing clays developed to withstand the high kiln temerpatures required for raking.  Contains a dye which burns off when firing.  An excellent smooth finish between the glass and kiln shelf.  Hi-Fire shelf prime is also excellent for coating mandrels for beadmaking. 

24 oz Tub                      5 lb Tub

  $10.99                          $21.00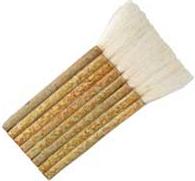 Haik Brush

Careful application is necessary for the effectiveness of shelf primer.  Confirmed by quality tests, the Haik brush from China is excellent for applying slow, even and continuous stroke to molds and shelves. 

2-1/2" Haik

$8.50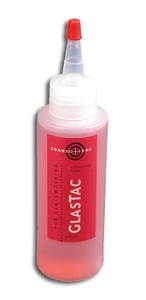 GlasTac Glass Glue

Holds glass in place prior to firing.   Glue burns out duirng firing.

4 oz Bottle

$4.95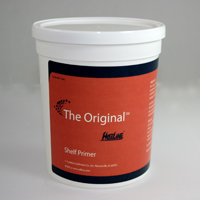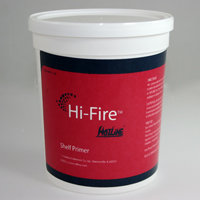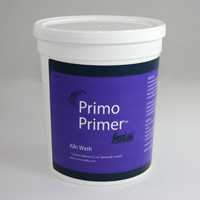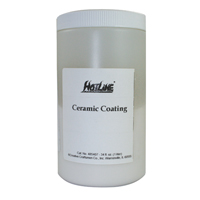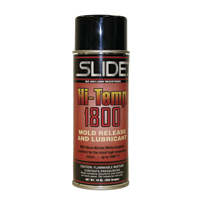 Hotline Primo Primer

Announcing a breakthrough in kiln shelf priming. Hotline Primo Primer fires to 1550 degrees F (843 degrees C) and higher. Glass does not stick to the shelf. Primer does not stick to the glass. It removes from shelf after firing by brushing or by wiping with a damp sponge. No more tedious and messy scraping. Packed in easy access plastic containers.

  1.5 lb Tub                      5 lb Tub

  $11.99                          $22.00

Hotline Wash-Away

8 oz. Easily removes baked-on shelf primer (kiln-wash) from the bottom of fused projects, like black glass, hot colors and opalescent glass. Apply without dilution to the baked-on primer and then lightly scrub with a plastic scouring pad. This should remove even the most stubbornly adhered primer. ORM-D

$8.99

Hotline Ceramic Coating

Hotline Ceramic Coating produces a hard, smooth surface on previously hardened fiberboards or uncoated boards. It is thermally reflective, with added dielectric strength and has a continuous service rating of 2300 degrees F (1260 degrees C). After a brush or roller full strength application, it may be lightly sanded. Add a second coat, mixed half strength for a hard, smooth durable surface. This product is recommended when boards are joined with LDS Moldable Cartridge (485406) to make a larger kiln shelf. 1 part water to 1 part concentrate to make 32 oz.

$22.99

Slide Hi-Temp Boron

Boron Nitride Spray Coating is a high temperature release agent and lubricant which prevents metallic objects from sticking to glass. The handy aerosol container affords easy and smooth application. Air or oven dry. Removes easily after use. ORM-D.

$16.99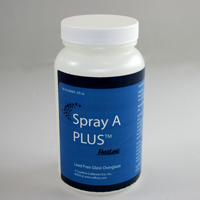 Hotline Spray A Plus

8 oz. (236 ml). Reformulated - Lead free. The original popular Spray A has been reformulated and is now 100 percent lead-free. It is a clear, low melting glass, ground to micron size and suspended in a medium, suitable for brush or spray application. Spray A may be applied to fusing projects when ready for firing to prevent devitrification on the glass surface, or as an overglaze for dull or matte surfaces, or even previously devitrified surfaces. Fire to minimum 1300 degrees F (704 degrees C).

$16.99